EN| Hello and Welcome in new rubric Beauty session !
This rubric will be about tips - tutorials - how I use beauty products ... Well, let's go read an article: how to contour and highlight your face .

SK| Ahoj, vitaj v novej rubrike "Beauty session" !
Táto rubrika bude o tipoch - návodoch - produktoch ktoré používam... V tomto článku sa dozvieš čo potrebuješ na jemné kontúrovanie tváre za pomoci lacných produktov. Preto nemusíš investovať do kontúrovacej paletky ktorá stojí najmenej 20€.


At first you need these products :
Potrebuješ tieto produkty :
Cream (Mixa anti-redness cream) |

podkladový krém

Foundation (I used bb cream) |

make-up (ja som použila bb krém)

Bronzer |

bronzér

Primer ( Catrice prime and fine: illuminating base) |

rozjasňovač

Powder |

púder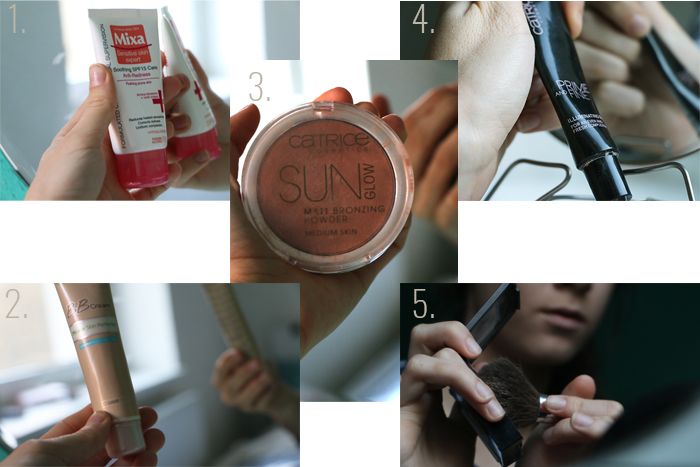 Apply the cream on the whole face (if you have dry skin)
After that - apply foundation on your cheekbones,nose, above jaws, in middle of forehead and chin.
(1) Highlighting : apply illuminating base under eyes, nose, forehead under nose.
(2.)Next is bronzer - contouring - mix bronzer with foundation and put it on cheeks and edges of face (forehead, side of nose, jaws, chin, under lips).
At first blend lighter places on your face and then you gradually shift to darker places. Blend it everything.
Put powder on and you are done!
SK|
Nanes krém na celú tvár (pokiaľ máš suchú pleť)
Potom nanes make-up na lícne kosti, na nos, na stred čela, nad sánku, na stred brady
(1.)Takisto nanes aj rozjasňovač hlavne pod oči, na lícne kosti nos a čelo
(2.)Na okraje tvári zmiešaj bronzér + make-upom (aby sme mali tmavší odtieň) - okraj čela, sánky, brady, boky nosu, pod perou
Rozotri najskôr bledšiu časť a potom prejdi k tmavšej .
Nakoniec nanes púder a ak chceš (2.)zvýrazni ešte líca s bronzérom